Grant Thornton has graciously provided us with the venue as well as refreshments for our next exciting event, scheduled for June 18th, 6:00 – 8:00 PM EST.
We will be offering this event both on location at Grant Thornton 200 King St W as well as virtually via Skype.
If you are planning to attend virtually, please RSVP as soon as possible as virtual space is limited, and registration is mandatory for the collection of CPE credits.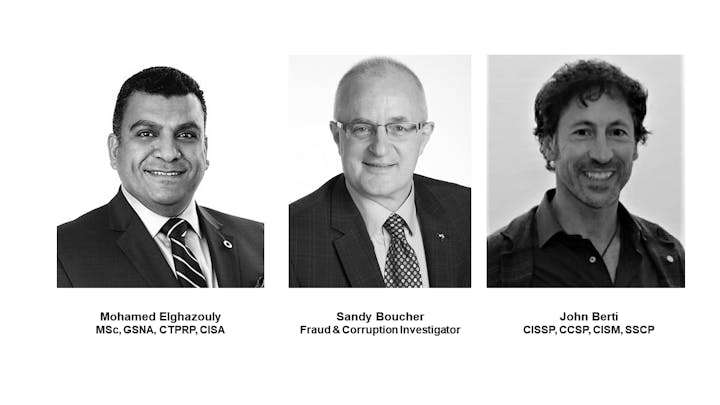 First Topic:
The realities of Cybersecurity risk, beyond the myths and misconceptions
Mohamed Elghazouly, MSc, GSNA, CTPRP, CISA
Senior Manager, Cybersecurity at Grant Thornton
https://www.linkedin.com/in/mghazouly/
Mohamed is a Senior Manager, Cybersecurity with over 19 years' experience, encompassing Cybersecurity, IT & Technical Audit and Risk Management across various industries. Projects included large number of infrastructure platforms, databases, middleware, and security architecture including Open Source, Analytics, Crypto-currency & other emerging technologies.
Sandy Boucher
Fraud & Corruption Investigator at Grant Thornton
https://www.linkedin.com/in/sandyboucher/
A seasoned investigator with 35 years of experience, Sandy joined the forensic and disputes resolution group of Grant Thornton in 2009, and currently leads the National Cybersecurity practice. This rapidly growing team provides support to organizations in assessing their cybersecurity risk, helping them to remediate their cyber programs and responding to data breaches and other cyber-attacks.
The Grant Thornton cybersecurity forensics team has been selected for a number of breach response panels by global insurance firms and has assisted organizations to tackle many varying cyber security incidents. Sandy's experience in leading and managing these files has underlined the problems that cause them, and highlighted to him the need for a plain language approach to the issue. He has led and conducted a wide range of investigations including a number of high level corruption probes and has testified around the globe in both civil and criminal courts.
Synopsis:
Grant Thornton's cybersecurity work with clients over the past few years has demonstrated that many organizations still do not properly understand the threats their businesses face, or the real impact a cyber-attack would have. This presentation, based on findings from real breach investigations conducted over the past two years will provide practical insights into cybersecurity risk today, and the necessary steps that many organizations are still not taking to protect themselves. Using a plain language approach is resonating with business leaders who have been left behind by over technical presentations and are wondering where and how to start.
Mohamed and Sandy will outline how to get started on the journey to improve your cybersecurity. Beyond the high-profile cases that have brought data security to the forefront, you will learn about the top cyber security risks facing Canadian businesses; steps you can take to prepare your people, protect your critical information and infrastructure, and improve your cyber security maturity, as well as common mistakes, and tips on how to make immediate changes that can significantly improve the security of your organization.
Second Topic:
A Practical Approach to Security Certification
John Berti, CISSP, CCSP, CISM, SSCP
https://www.linkedin.com/in/jberti/
Co-Founder, Destination Certification Inc.
(ISC)2 Senior Master Lead Instructor (20+ years)
Formerly Managing Director Enterprise and Cyber Risk Services, Deloitte (20 years)
John Berti is the Co-Founder of Destination Certification, an organization that he started with the pure focus on helping those interested in (ISC)2 certifications achieve their goals. Formerly, John was a Managing Director in the Canadian practice of Deloitte and Touche LLP's Security and Privacy Services consulting practice. John has extensive experience in Information Security and Privacy including Cyber Risk, E-business and E-commerce security controls, network security reviews, intrusion and penetration testing, risk analysis, policy development, identity and access management, payment card industry experience, governance, security awareness, forensic investigations and information security assurance programs.
John has over 26 years of Information Security experience and continues to be one of the top Senior Lead Instructors for (ISC)2, the organization responsible for worldwide CISSP certification of Information Security professionals. He is a published author of the best-selling hard-cover book 'Official ISC2 Guide to the CISSP Exam' (Auerbach Publishers – 2004), as well as 'Copyright Infringement and Protection in the Internet Age' (IT Professional Magazine – 2010), and 'Social Engineering – The Forgotten Risk' (Information Security Management Handbook – Auerbach Publishers – 2001).
Synopsis:
John will be providing an introduction to Security Certifications and provide insight on best practices on how to successfully attain your certification goals based on over 20 years of experience as an (ISC)² Senior Master Lead Instructor. Whether you're interested in becoming a new CISSP or adding a CCSP to your existing list of credentials, John will be offering something for folks interested in entering the security profession and security veterans alike. Those who attend this session will be offered advanced access to seats to our CCSP training event scheduled for the fall of this year.
---